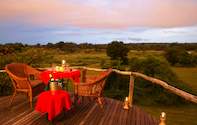 For a truly unforgettable destination in which to exchange vows, Mala Mala Game Reserve offers an intimate, unpretentious venue where guests can experience the heart of warm African hospitality, beautiful sunsets, panoramic views and romantic accommodation.
Weddings at Mala Mala
The Mala Mala team is on hand to assist with planning the special day. All the necessary arrangements can be made including booking the Interdenominational Minister from Nelspruit (he is available everyday except Sunday) and ordering in flowers. Non-delicate blooms work best due to the travelling distance from town and the warm climate.For the nuptials, the Shangaan staff from Mala Mala provide a choral background with traditional African wedding songs - this is a highlight as their voices and harmony are renowned. After the ceremony, eco-friendly bougainvillea leaves are used to shower the Bridal Couple instead of confetti.The
reception can be arranged
in a designated bush venue or guests can return to camp for a special Boma (outdoor enclosure) dinner served in the company of fellow guests and staff. Alternately, a private candle-lit meal may be set up on the deck of the bridal suite.
Honeymoons at Mala Mala
After months of preparation for the wedding and all the excitement of the "Big Day", the Bridal Couple could do with a fabulous escape to the wilderness. Mala Mala offers just such a retreat - no cell phones, city stress or arrangements to see to, just pure peace, silence, and unspoiled rugged bushveld.Mala Mala provides honeymooners with a private and romantic space, superb cuisine and good company. Newlyweds can relax in style close to nature and also venture out on thrilling game drives.The intimate accommodation at Mala Mala Game Reserve offers lovely views of the Sand River from shady decks. Where possible, honeymooners are allocated the more remote rooms for minimal disturbance and maximum ambiance.Compliments of Mala Mala, the newlyweds can enjoy a bottle of sparkling wine, a shower of bougainvillea blooms and a fruit basket upon arrival in their room. In-room dining can be arranged for
private and romantic meals
or the couple can join the other guests and staff.