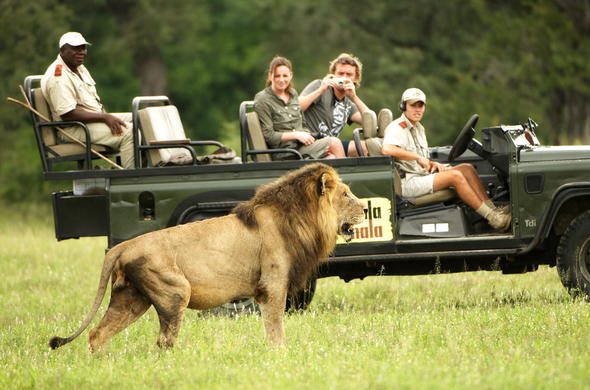 At Mala Mala, visitors enjoy fantastic Big Five game viewing with at least 9 out of 10 guests seeing Leopard more than once on a 2 night stay.
Mala Mala Wildlife Experience
Renowned internationally for the quality of its game viewing, Mala Mala adjoins the Kruger National Park with an unfenced border of 12 miles (7.5km), and is the largest private reserve to do so.The Sand River, which is a magnet for game, moves right through Mala Mala in an uninterrupted flow providing the longest stretch of river frontage in the Sabi Sand Reserve. All Mala Mala lodges are built on the western bank to allow for unhindered game movement. Game viewing in Mala Mala is exceptional due to the great diversity of habitat types.
Lion, Elephant, Leopard, Buffalo and Rhino
make up the Big Five. This list was created by hunters of days gone by who found these 5 species to be the most dangerous. Visitors in search of the Big Five can see them all at Mala Mala and also discover that Africa is actually filled with many fascinating creatures of every kind.
A Day at Mala Mala
A day at Mala Mala, no matter the choice of camp, combines exhilarating game viewing opportunities with a chance to
relax and refresh the soul
. The phenomenal wildlife around which safaris revolve is the priority at Mala Mala. On arrival at a Mala Mala camp, guests will be introduced to their ranger team who act as hosts, guides and educators during the safari.Game drives are conducted in
open 4-wheel drive safari vehicles
in the 40,000 acre reserve. The rangers are in constant radio contact with one another, via headsets, about game movements. The safari vehicles enable the rangers to leave the road and provide opportunities for close up game viewing and fantastic photography.There are no typical days at Mala Mala. Experiences unfold around the wildlife, their movements and the consensus of the group on game drives. Game drives usually take place
early morning and late afternoon
when the day is cool and the animals are more active.Hot and cold beverages and a snack are available after wake-up, with a hearty breakfast served on return from the morning drive. Guests are free to relax, commune with nature and enjoy camp facilities until the afternoon game drive, or they can set off on a
guided game walk after breakfast
. Game walks are wonderful for getting close to nature - the sounds, smells and of course any game out and about.A
buffet lunch is served at camp
, although some guests prefer to rest at this time before meeting for hot and cold drinks and snacks prior to the afternoon game drive. This excursion leads into the evening and sundowners are available onboard the vehicle, whether the group decide to stop and enjoy the sunset or push on for a possible Leopard sighting.On evening drives, a powerful spotlight is used to scan the bush for nocturnal animal life which is a highlight, as many creatures can be illusive otherwise. After dark, the
starry African skies
can be appreciated on the drive back to the lodge in time to freshen up before drinks and dinner.Drinks are enjoyed in the Safari Bar whilst chatting to friends and the rangers. Dinners are generally served in the
reed enclosed Boma
(circular outdoor area). By the light of a camp fire under open skies, everyone sits down to a memorable meal. Dinners can also be enjoyed by candlelight on the deck overlooking the Sand River.